The word salsa or sauce usually refers to the spicy hot sauce that originated in the kitchens of Mexico and Central America.The following Mexican Salsa Sauce recipe is both a simple condiment to prepare and a nutritious component of the human diet.
The Two (2) Primary Ingredients are Tomatoes and Chili peppers, in this case, Jalapeno or Serrano Peppers.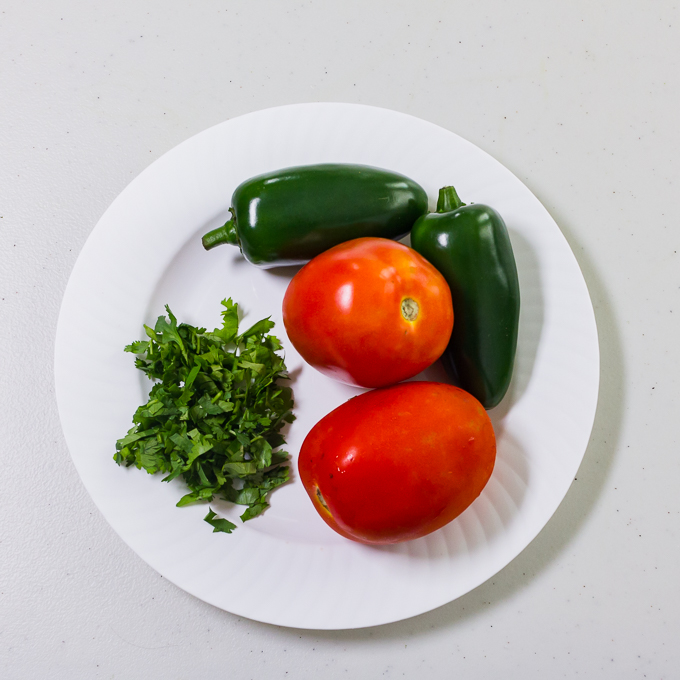 This recipe for traditional Mexican hot sauce is my favorite. Besides being quick and easy to prepare, it is a delicious and compatible accompaniment for a wide variety of main courses like tacos, breakfast eggs, steaks and more, and works exceedingly well as a common dip.
I have no doubt that you will soon prefer the homemade variety than the more expensive kind that is purchased at the store. In fact, there is no real substitute for the fresh, homemade tomato salsa sauce recipe that you prepare at home. So enjoy.

Salsa Sauce Recipe
Ingredients
2 medium ripe tomatoes
2 medium size jalapeno peppers or 4 serrano peppers
¼ cup chopped fresh cilantro (optional)
Salt added to taste
Instructions
Dry roast or griddle roast the tomatoes and hot peppers on a baking sheet or griddle at medium heat, turning occasionally until they are blackened and soft.
Remove from heat and allow to cool.
Remove as much skin as possible.
Cut the peppers in half in order to remove the veins and seeds from the interior.
Put the peppers, the fresh chopped cilantro, and tomatoes into a blender and blend repeatedly for intervals of no more than 4 or 5 seconds at a time. The purpose of this is to help preserve a certain amount of grittiness, as opposed to making a completely liquefied puree.
Transfer contents into a bowl. Thin with a small amount of water and season with salt added to taste.
Enjoy it as a topping on many foods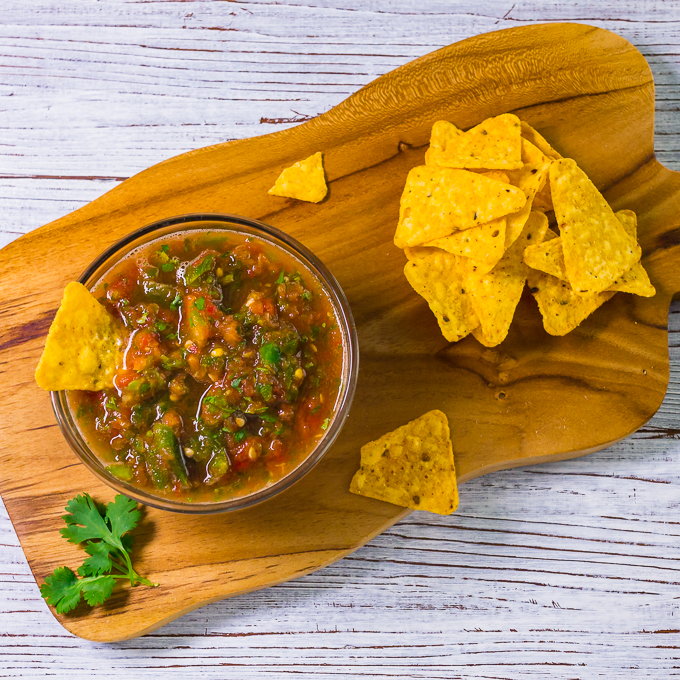 Salsa Sauce Recipe Tips:
CAN YOU CONTROL HOW SPICY THE SALSA SAUCE WILL BE?
Mexican salsa sauce can range from mild to very hot depending on the type of chili peppers and amount used.
MAKE AND SAVE
Spoon the salsa into a storage container. Cover and chill for up to 1 week.
NUTRITIONAL FACTS FOR SOME INGREDIENTES IN THE SALSA SAUCE RECIPE
JALAPENO OR SERRANO PEPPER: The pepper is a rich source of vitamins B and C. Among the positive benefits are a lowering of cholesterol and blood pressure. Also, the hot chili pepper works as an antioxidant and helps minimize the risk of prostate cancer.
TOMATOES are rich in potassium, vitamins C and A, and are in the category of antioxidants. This helps them preserve muscle tone. They help to lower the risk of heart disease and cataracts.
CILANTRO improves and strengthens urinary valve function.