This Charro Beans Recipe, in other words, Frijoles Charros Recipe or Frijoles a la Charra, is simple and delicious.The Charro Beans is a great side dish for your Carne Asada recipe. A fancy restaurant's grilled beef offering carne asada inevitably sports a helping of this classical recipe.
Charro Beans Recipe or Frijoles Charros Recipe
Ingredients
1 pound of beans
2 cloves of peeled garlic
1 white onion (1/2 whole, ½ chopped)
2 chopped tomatoes
3 tablespoons of chopped fresh cilantro
Salt
Water
1 teaspoon of powdered chicken broth
1 sliced serrano or jalapeno pepper
5 ounces of bacon cut into small pieces
5 ounces of chorizo
5 ounces of pork rinds in small pieces (optional)
2 sliced turkey sausages (optional).
Instructions
Leave a pot of beans covered in water overnight.
The following day replace the water - adding a sufficient amount to begin cooking.
As the water reaches its boiling point, add the ½ onion and garlic cloves.
Cook until done, then add salt according to taste.
In a frying pan with a small amount of cooking oil, fry the bacon and chorizo for about 4-5 minutes.
Add the chopped onion, the chilli pepper, and tomato and continue to fry.
Add the fried ingredients to the pot of beans.
Once the mixture is brought to boil, add the cilantro, pork rinds, and sausages. Season with salt and powdered chicken broth.
Serve.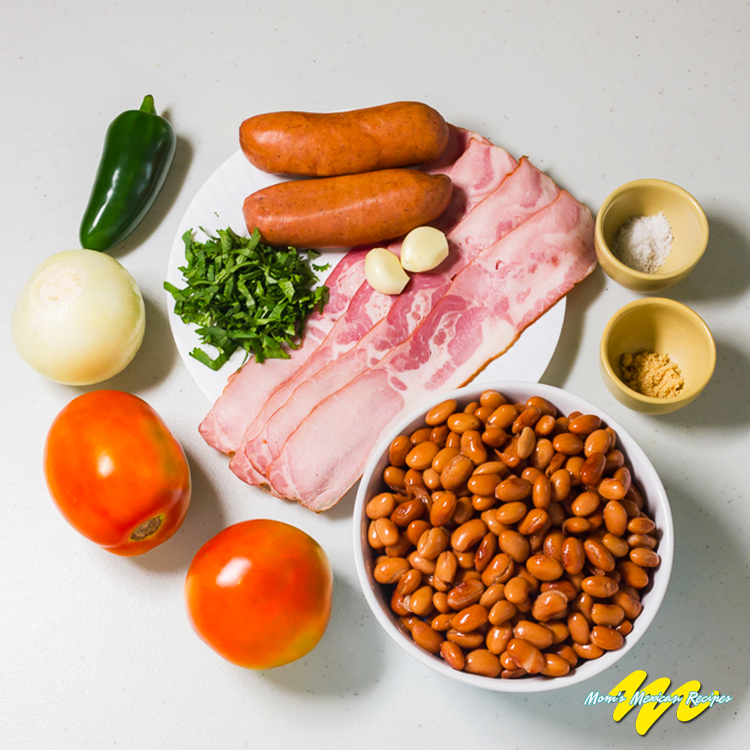 TIPS
WHY SOAK THE BEANS?
Soaking the beans overnight will reduce cooking time and intestinal gas.
NUTRITIONAL FACTS FOR SOME INGREDIENTES IN THE CHARRO BEANS RECIPE
BEANS are high in folic acid. Beans prevent anemia, helps against fatigue and is necessary for the formation of red blood cells.
CILANTRO improves and strengthens urinary valve function.
TOMATOES are rich in potassium, vitamins C and A, and are in the category of antioxidants. This helps them preserve muscle tone. They help to lower the risk of heart disease and cataracts.
Questions / Ideas regarding the recipe? Leave your comment Below to make our recipe more accurate.
Don't Forget to Like our Official Facebook Page for more Mexican Recipes.