The Cornbread recipe in Mom's Mexican Recipes is a tastier and more nutritious version than cornbread commonly served nowadays.One main reason is that this cornbread recipe uses primarily organic ingredients, such as fresh corn cobs instead of store-bought cornmeal.Freshly prepared Mexican Cornbread is equally suited to breakfast, lunch or dinner.The wholesome filling of grated cheese and sliced peppers provides a complete and flavorful texture that is unique to Mexican Cornbread.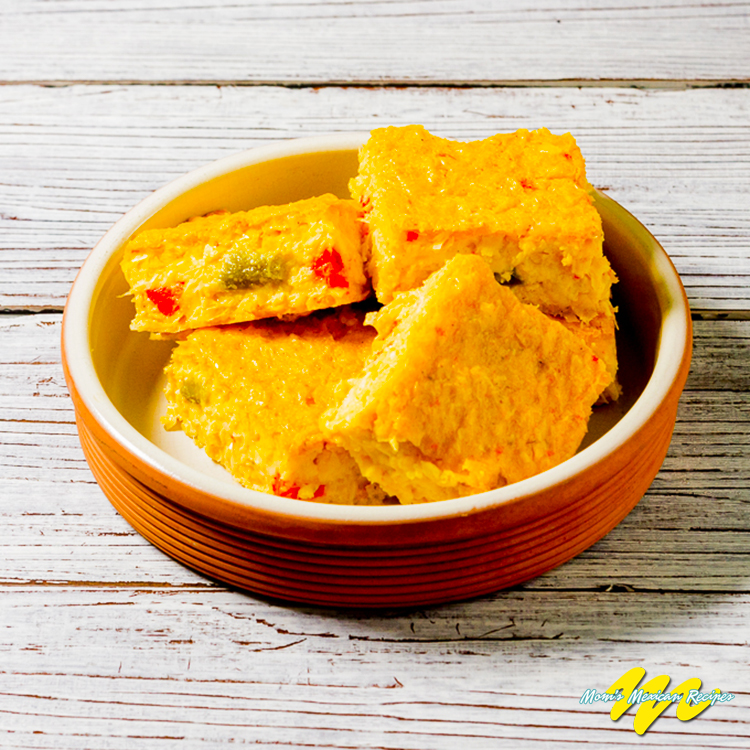 As with practically all of Mom's Mexican Recipes, the cornbread recipe allows for individual variations with respect to ingredients: adding onion or cilantro for instance, or choosing a hotter, spicier type of pepper.But first I invite you to try this original recipe provided here for Mexican cornbread, you will love it.
A popular favorite is the combination of the cornbread and a serving of home-cooked beans.

Cornbread Recipe
Ingredients
9 fresh ears of corn, husked
3 eggs
1 cup sour cream
1 spoonful baking powder
1 teaspoon salt
pepper added to taste
1 cup grated cheese (cheddar or Monterrey Jack)
1 large fresh poblano pepper
1 red bell pepper.
Instructions
Preheat oven to 350° F.
Cut the corn from the cob with a knife. Set aside.
Roast the chili peppers. Rub off the blackened skin, then cut out the stem and seed pod. Roughly chop. Set aside.
Grease and flour a 9-by-13 inch baking dish.
Grind in a blender the corn, eggs, sour cream, baking powder, salt and pepper to make a paste.
Place half of paste at the bottom of the baking dish.
Add the filling: cheese and chili peppers. Then top with remaining paste.
Bake at 350° F for approx. 50 minutes or until golden brown.
Serve.
T I P S Mexican Corn Bread Recipe Tips
FOR EASY PEELING of freshly roasted peppers, place them into a plastic bag for approx. 5 minutes.
TO REMOVE CORN FROM COB: place cob in a vertical position inside a container. Use a downward movement with a sharp knife to separate corn from the cob. To remove remaining sweet and milky juice, repeat this action using the other side of the knife.
NUTRITIONAL FACTS FOR SOME INGREDIENTES IN THE CORNBREAD RECIPE
CORN: The high fiber content of corn helps lower cholesterol levels. Corn is also endowed with many carbohydrates which translate into a source of quick energy. Combined with other veggies in the human diet makes corn an excellent source of carbohydrates, protein, and vitamins.
CHILLI PEPPERS: pepper is a rich source of vitamins B and C.