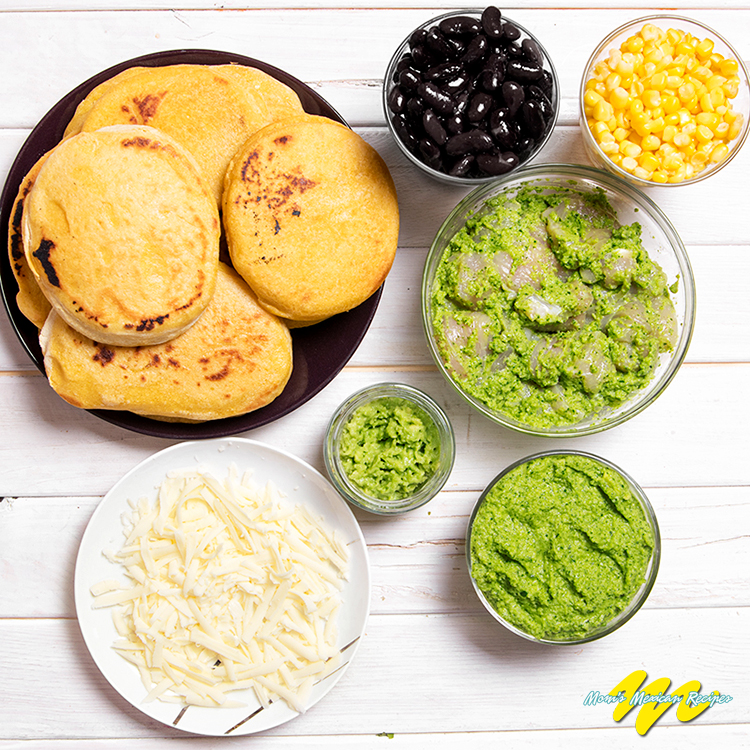 Chicken Avocado Arepas Recipe
Tasty Arepas with excellent chicken marinated in Guasacaca sauce, divine Avocado spread, melted mozzarella cheese, black bean, and corn.
Ingredients
For Guasacaca Sauce
½ chopped white onion
1 minced garlic cloves
1 large sliced, peeled and pitted avocado
1 lime juiced
¼ cup stemmed parsley leaves
¼ cup stemmed cilantro leaves
3 tablespoons red wine vinegar
¼ cup extra virgin olive oil
1 Jalapeno pepper seeded and sliced
Salt and pepper to taste
For Arepas
2 cups precooked corn meal
3 cups warm water
1 teaspoon salt
For Filling Arepas
2 chicken breasts, boneless, skinless
2 tablespoons olive oil
1 cup cooked black bean
1 cup cooked corn kernels
8 oz mozzarella cheese shredded
1 large pureed, peeled and pitted avocado
Instructions
For making Arepas
Put the salt in bowl with warm water.
Add cornmeal in a bowl stirring it well to form a dough.
Set aside dough for 5 minutes. Form 8 balls from dough.
Preheat the oven to 400F.
Form from 8 ball dough disk shape arepas.
Put the coated olive oil skillet on medium high heat.
Place as many disk shape arepas dough in skillet and cook 5 minutes on each side or until golden brown.
Repeat these steps for all arepas.
Place all arepas in baking tray in oven for 10 minutes.
Keep them warm for filling.
For Guasacaca Sauce
Place all the ingredients for the guasacaca in a blender or food processor and blend until smooth. Season with salt and pepper.
Cut chicken breasts into strips and marinate with ¼ Guasacaca sauce.
Heat the skillet over medium-high heat and put marinated chicken for 5 minutes.
Stir it all the time. Cover the skillet and lower the heat at low. Cook for 10 minutes.
Now you are ready to staff arepas.
With sharp knife open arepas and spread the avocado.
Put the cooked chicken, black bean and corn kernels.
Finish it with Guasacaca sauce and a little bit shredded cheese and enjoy.
---
Questions / Suggestions regarding the recipe? Comment below. Also, Don't forget to Like our Official Facebook Page for our latest Mexican Recipes. Thank You!